Preventive Care

Dental Cleanings & Dental Check Ups

Taking advantage of routine preventive dental care like dental check ups and dental cleanings can make all the difference in maintaining a healthy and attractive smile. Dr. Stefanie Shore is a highly qualified dental care provider with an experienced team of skilled and compassionate dental care professionals. She wants to partner with you to ensure that you can enjoy a lifetime of good oral health. Her office uses the latest dental diagnostic technology to identify and stop potential decay and damage at the earliest stages. If you're looking for a quality dental check up and a dental cleaning infused with warmth and comfort, make an appointment today.

Schedule Your Appointment ›
Advanced dentistry in a state-of-the-art surgical center.
CAMBRA – Caries Management by Risk Assessment

Today, the top U.S. dental schools promote CAMBRA as a best practice for dentists making preventive dental care recommendations. Dr. Shore's office has practiced CAMBRA protocols since they were introduced in 2007. Always wanting to be on the leading edge of dental technology and systems, Dr. Shore has continually refined her decision making process to best serve her patients. Within this process, Dr. Shore has found that some of the most important risk factors for tooth decay include:

High levels harmful bacteria in your mouth
Frequent exposure of your teeth to sweet or starchy foods
More acidic saliva
Low amounts of saliva (also called xerostomia or dry mouth)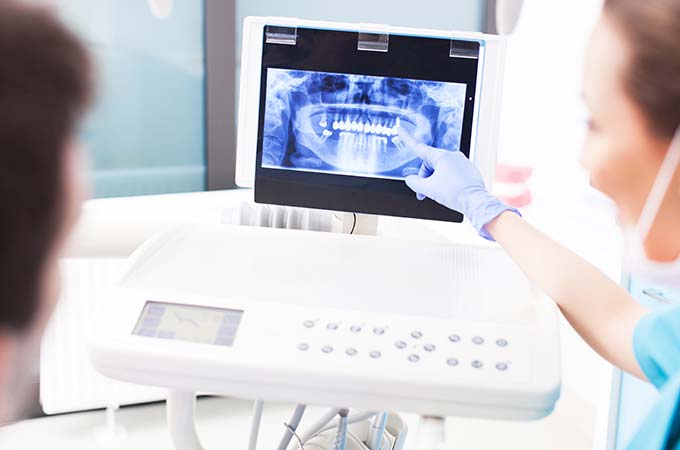 About Preventive Dentistry

Dental Cleanings

During a dental cleaning, Dr. Shore's hygienist will gently remove tartar buildup from each of your teeth and polish your enamel in order to remove minor staining. Removing tartar (also called calculus) is important because it harbors harmful bacteria that cause inflammation of the gums and breakdown of the gum and bone that support the teeth. In many cases, an ultrasonic scaler is used. This technology uses sound waves and water to remove tartar and disrupt bacteria around the teeth. It is considered by many researchers to be an ideal method for preventive and therapeutic cleaning of the teeth. The hygienist will also check your gums for possible signs of periodontal disease and will alert Dr. Shore so that you can begin additional treatment if needed. Non-surgical treatment of gum disease is appropriate for many patients. This involves scaling and root planing of the teeth and in some cases placement of a localized antibiotic called Arestin. Dr. Shore's highly skilled hygienists will always customize your cleaning to be sure you are comfortable during your visit. Options for patient comfort include neck pillows, mouth supports, desensitizing paste, topical anesthetic gel and even numbing the teeth.

Digital Dental X-Rays

Dr. Shore always holds the well-being of her patients as the highest priority. By relying on digital X-rays, Dr. Shore is able to make precise and detailed images of your teeth that are instantly accessible on a conveniently placed monitor in your appointment room. Dr. Shore can "show and tell" you all about your treatment plan and potential areas of concern. In this way, your dental check up appointment recommendations are easier to understand. Digital x-rays also emit 90% less radiation than traditional x-rays and are therefore a much safer option. By following the ALARA (as low as reasonably achievable) FDA guidelines, Dr. Shore takes only the radiographs that are absolutely necessary for diagnosis and to complete your treatment.

Oral Cancer Screening

Did you know that thousands of people every year are diagnosed with oral cancer? This disease can be devastating and even deadly if left untreated for too long. That's why diagnosing oral cancer in its earliest stages is so crucial to the treatment process. Dr. Shore can quickly and comfortably scan for oral cancer as a part of your routine dental check up. She will be looking for any tissue abnormalities that could suggest its presence. Dr. Shore and her experienced team are devoted to protecting your overall health and your smile.

How do I get started?
Dr. Stefanie Shore and her team are proud to offer patients of all ages high-quality dental care that preserves their safety, meets their unique needs, and promotes a warm and friendly atmosphere where they can feel at ease while they receive treatment. Contact our Carmichael practice today to schedule an appointment!